Hello there privateers!
2018 has been a wild ride so far, and as summer heats up, we have some fresh out the oven Slipstream Scalawags tidbits to share with you! First up is our latest character bio, featuring our game's mysterious and deadly pirate captain!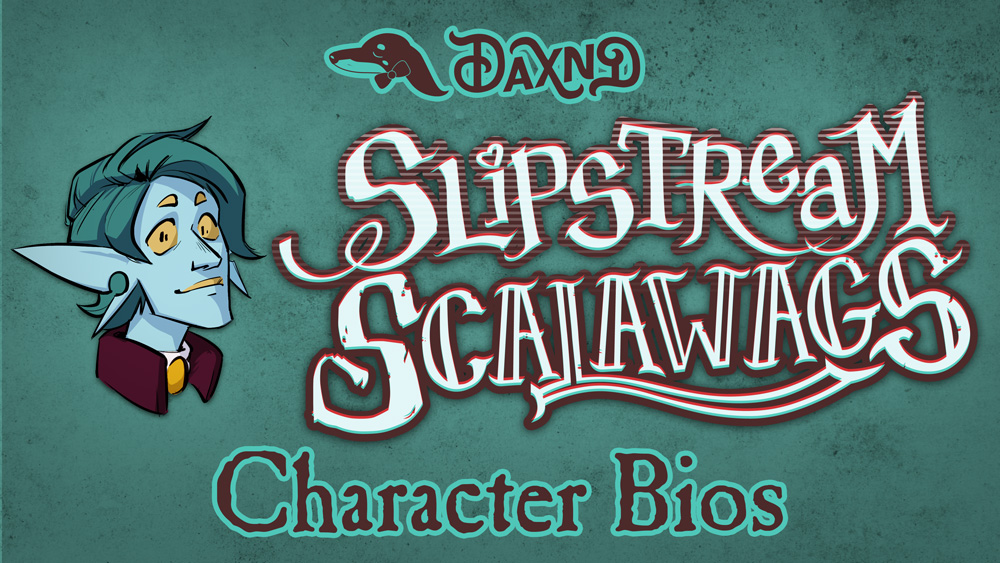 Nico Tala, Captain of The Black Card, scourge of merchants traveling in outer Federal Protectorate territory , is a force to be reckoned with. Having begun his life of criminality at an early age in the wake of a great personal tragedy, he and his loyal Quartermaster fought, stole and swindled their way into their own makeshift vessel. It was not long before they began to recruit what became the bulk of their current crew, and now carve a path of destruction across many a trade routes, pillaging unsuspecting ships of anything even remotely resembling good.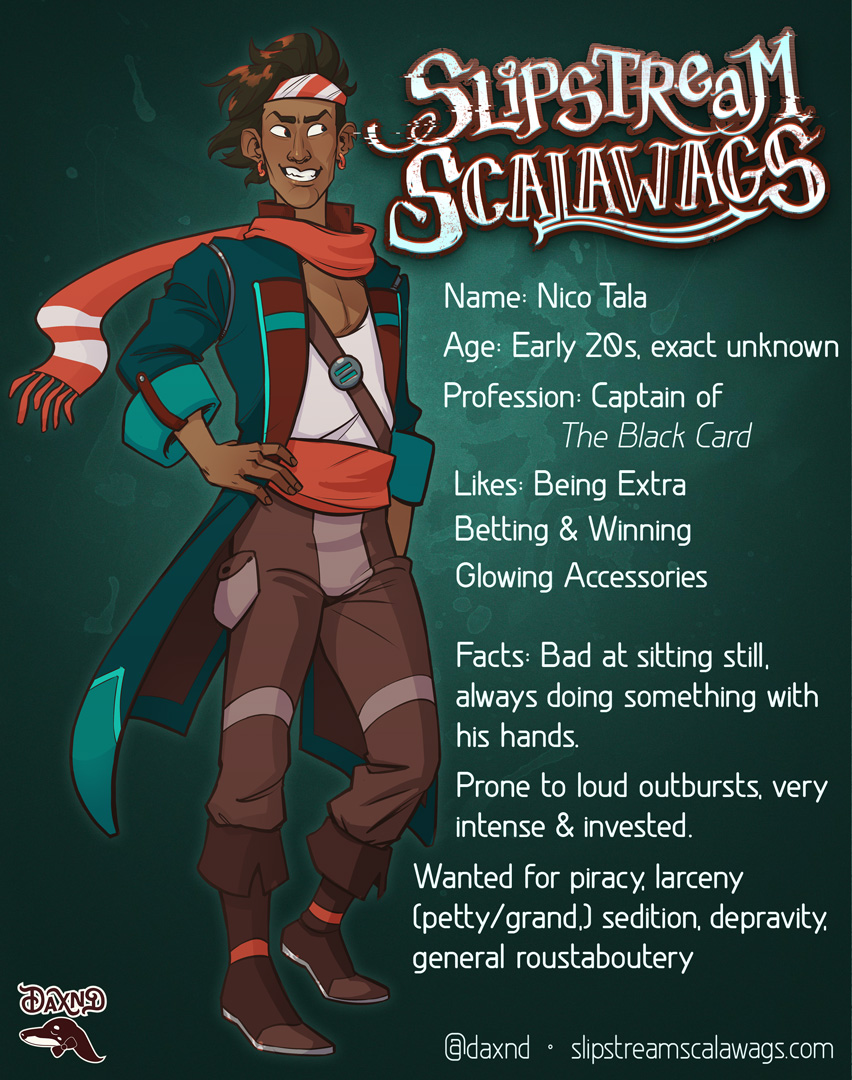 Cunning and audacious, as energetic as he is ambitious, Nico makes it a mission to intimidate his enemies and inspire his crew. While on the surface he seems a maniacal warlord with a thirst for blood, those closest to him get the slightest peek behind the mask. What is behind that veneer, you'll have to find out along with our protagonist. : )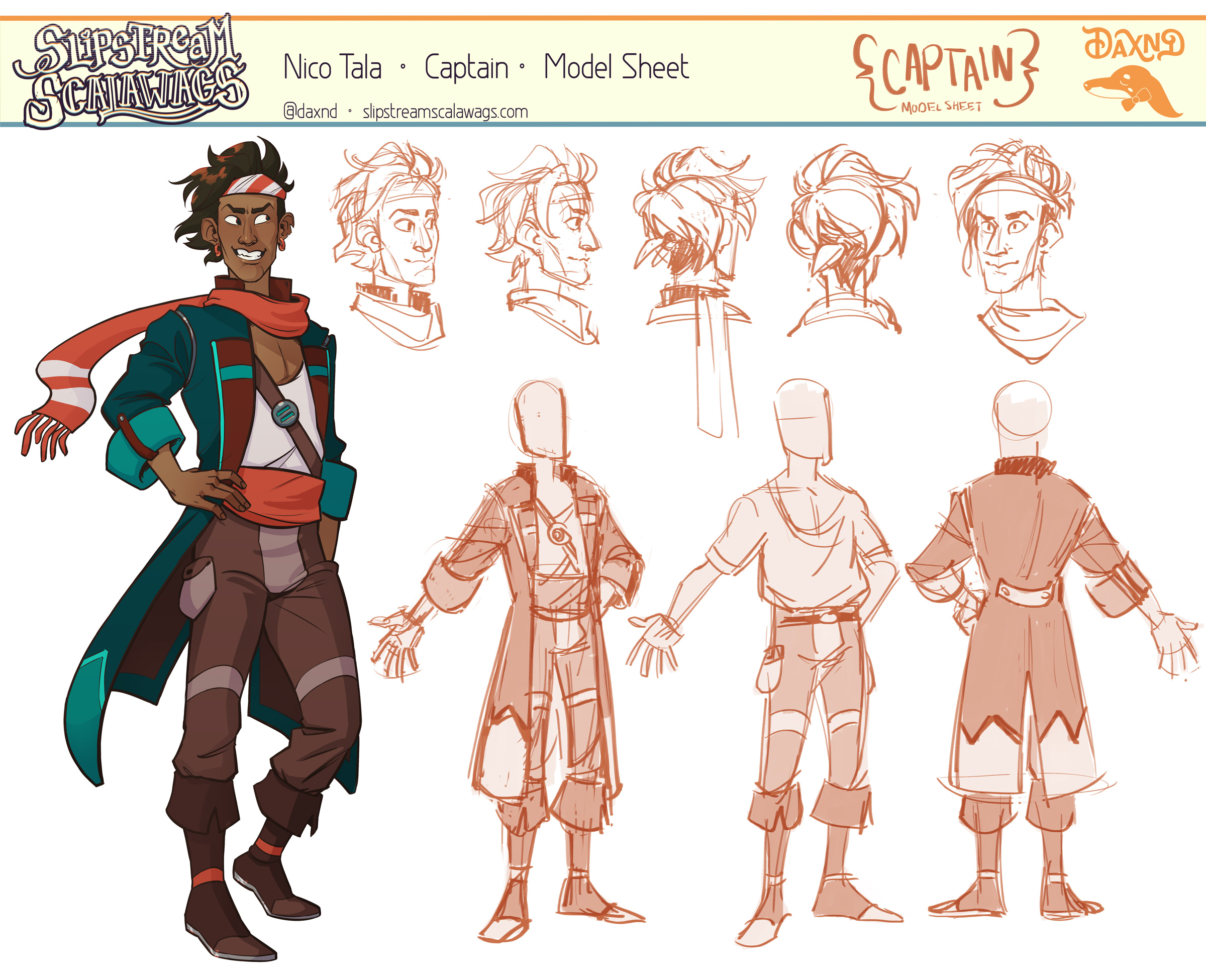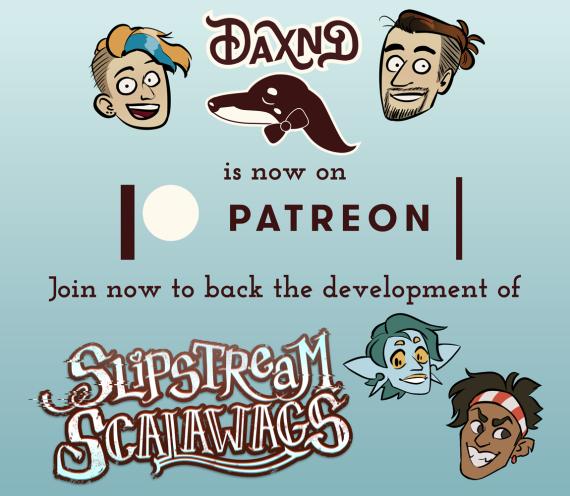 In other exciting news, we have just launched our official Patreon! Starting today, you can pitch in a few bucks a month to help support Team Daxnd as we go on this journey to produce awesome games and art, and get access to a myriad of awesome bonus rewards, such as exclusive developer blog posts, podcasts, art tutorials, early access to preview builds of our current projects, commission art, access to our backer Discord (with numerous perks therein), and even swag! Any treasure you want to toss our way would be greatly appreciated, and help us make our dream come true! Your support is greatly appreciated. : )

We also have our next livestream scheduled! Join us on Twitch this Tuesday July 3rd at 2pm PT to hang out with us while we make live art for Slipstream Scalawags and play pirate themed games!
It's an eventful summer, and we can't wait to share more with you all as we continue development, and we hope you can take this journey with us!
Add a comment
Comments
ICAboLJtFWnmS
Written on Sat, 24 Jul 2021 00:58:45 by CHGuVzLcKBsY
uLajOyEksYgfc
Written on Sat, 24 Jul 2021 00:58:44 by GrSTKvIcQ
MAHeIhpvCRf
Written on Sun, 20 Jun 2021 03:53:15 by MVzWrKFoD
qCltREwGpzgA
Written on Sun, 20 Jun 2021 03:53:13 by kULENBiHI
HvopVDIbh
Written on Tue, 18 May 2021 15:37:00 by tRuVochApTMqyjS
KsiUmybGOSjAd
Written on Tue, 18 May 2021 15:36:59 by hnPKsHfCebXvk
zrUPbifGXO
Written on Fri, 30 Apr 2021 11:39:50 by BqOkRfxhayW
IFzmNPaqkeK
Written on Fri, 30 Apr 2021 11:39:49 by VfbyUrWvkozEAqZ
gYdztMjVN
Written on Fri, 16 Apr 2021 04:59:45 by psqIdvNlDwamR
nIiEtNukWb
Written on Fri, 16 Apr 2021 04:59:25 by jxoGIuOYm
EdzMZHPoY
Written on Sun, 04 Apr 2021 18:54:29 by XONzeylM
lrzYENRMo
Written on Sun, 04 Apr 2021 18:54:28 by omXWQMVLCcguGy
Muchas gracias. ?Como puedo iniciar sesion?
Written on Sun, 28 Mar 2021 16:26:46 by lucqvnpmgj
JYcTnjkLbQi
Written on Fri, 12 Mar 2021 19:29:15 by SolzyhQcPULCtf
SiWhucZpFEa
Written on Fri, 12 Mar 2021 19:29:14 by XdrWxFZLUNsOk
uDSjvAcVFwgZ
Written on Mon, 15 Feb 2021 17:37:41 by tZJTYLOmfiD
iOtlYpRPFfWkCz
Written on Mon, 15 Feb 2021 17:37:40 by GzDwYudV
zkqjQLUgSn
Written on Tue, 02 Feb 2021 21:44:34 by XmjyAtYKwzPFHG
gRATbiWJSZnu
Written on Tue, 02 Feb 2021 21:44:33 by woKLAdMjbJQHW
bsaJGoSVnIxA
Written on Mon, 18 Jan 2021 20:03:20 by SgmAiFbKd
vgtowKUpYWX
Written on Mon, 18 Jan 2021 20:03:18 by NVUcDxmWYSHQaz
aFxQolgnRNT
Written on Sat, 19 Dec 2020 23:54:44 by zboYZJPHBEt
IipLrCSNjBV
Written on Sat, 19 Dec 2020 23:54:42 by elvDypLkT
LyFVcsRuOPdimt
Written on Sat, 05 Dec 2020 20:40:31 by XGkRHthdjYKOsySp
MBDUKNgPteSAckE
Written on Sat, 05 Dec 2020 20:40:30 by ajxvMzCDZ
IdsQVCqOxlzGiRKt
Written on Wed, 07 Oct 2020 06:51:35 by LHNFnYdicWR
NFdJZromO
Written on Wed, 07 Oct 2020 06:51:33 by yuqKEzLrZDcX
uytXYqrDTgEG
Written on Mon, 21 Sep 2020 10:30:56 by YtBohwXEWOVb
FprgPtVGOXNhcjW
Written on Mon, 21 Sep 2020 10:30:54 by SeEABoDMFYpOg
lYyMhfQeGEqBI
Written on Sat, 05 Sep 2020 00:06:39 by PzjYhAgZHTdvRK
yIFNdVsTzlrZEX
Written on Sat, 05 Sep 2020 00:06:34 by TkXVGoMlpIwPtUAv
zasFdSDNHyXhLk
Written on Tue, 18 Aug 2020 10:27:58 by eoGBhYAZSU
swXBcNtVMOARlD
Written on Tue, 18 Aug 2020 10:27:56 by sizQOhuvBwDKoc
LZbAfWeypFc
Written on Tue, 28 Jul 2020 22:09:17 by kjTWAOrYK
sqpVyIckdwlMT
Written on Tue, 28 Jul 2020 22:09:05 by LmTZENHaqPkb
oDKHmIGBxlJPA
Written on Fri, 15 May 2020 01:17:32 by XBjvcUmbrNwVOLHM
EMzpPnhmj
Written on Fri, 15 May 2020 01:17:30 by RBAeLtmqdGDT
lkRaYmJKuwpPxqVh
Written on Tue, 25 Feb 2020 05:04:31 by ZHJDekKmETqbQMF
HckFgArT
Written on Tue, 25 Feb 2020 05:04:30 by ufwdQnvDbxltsg